Sixth Form Overview
The Skinners' Kent Academy is founded on the principles of a culture of high standards and high aspirations, a culture of active participation, an emotionally rich learning environment and an inclusive environment where every child is known and every learner supported.
What is the International Baccalaureate Career-related Programme (IBCP)?
At The Skinners' Kent Academy Sixth Form students follow the IBCP - International Baccalaureate Career related Programme. The IBCP is a flexible, progressive and challenging programme of study that looks to develop our students academically and provide them with the skills for the 21st Century workplace. The IB framework exposes students to ethical thinking which develops their own values and moral compass. This uniquely prepares them to think, act and work in the dynamic global society in which we live. It is excellent preparation for university, apprenticeships and the world of work.
The IBCP offer at The Skinners' Kent Academy
The key difference of the IBCP is the flexibility it offers students. There are three elements to the IBCP offer at The Skinners' Kent Academy: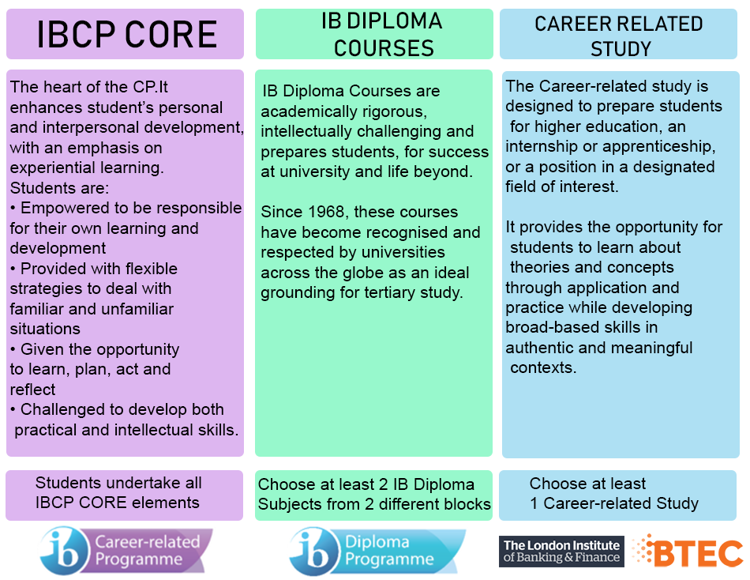 ​The three elements can be flexibly combined into a number of coherent pathways that provide students the opportunity to set themselves achievable goals preparing themselves for the world of work, apprenticeships or University. ​
Sixth Form Dress Code Expectations
The Code
All Sixth Form students are to be of a smart and sensible appearance. • Jewellery is to be kept to a minimum. In addition to a stud in each ear, a further discrete piercing will be permitted.
Mobile phones can be brought to the Academy and be kept switched off in lessons. The Academy accepts no responsibility, for the loss or damage of these items.
Wear Sixth Form purple lanyard Photo Identity whilst on site.
Dress Code Rationale
Sixth Form students are regarded as role models for other students at the Academy. By following the dress code, you will have some degree of individuality whist also setting an example to the rest of the Academy, including both parents and visitors. The Academy requires smart business dress that expresses a sense of pride in your appearance.
Our dress code is gender neutral and positive, meaning any of the items specifically listed may be worn. Please presume that any items not listed are, therefore, not permitted. If you require clarification about a particular item not listed, please speak to a member of the Sixth Form Team before wearing it to the Academy.
Smart business-style or suit trousers
Smart business-style or suit skirt of an appropriate length (10 cm or less above the knee)
Smart business-style or suit dress of an appropriate length (10 cm or less above the knee)
Smart business-style/suit jacket or blazer
Smart shirt with collar and tie
Smart blouse with an appropriate neckline
Smart leather or suede shoes (or shoes of leather/suede appearance)
In addition, you may wear:
Smart plain jumper
Smart plain cardigan
Smart business/suit waistcoat
Coats may be worn but are to be removed once inside classrooms/study areas
A single piercing in each ear is permitted as well as one additional discreet facial piercing
Hair should be of a natural colour
When the Academy moves to 'summer uniform', SKA Sixth Form students will be permitted to wear smart, shorts of an appropriate length (10 cm or less above the knee)
Please assume that anything not specifically listed above is not allowed. For example, trainers and hoodies are not included on the list, so are not permitted. Any clothing with rips, holes or large logos/slogans will not be deemed as being 'smart' and the judgement of the Sixth Form Team will be final on all matters relating to the Sixth Form Dress Code.
Finally, please remember that the dress code in the Sixth Form is a privilege not enjoyed by other members of the Academy. It reflects the level of maturity and independence we expect from our Sixth Form students and any student failing to comply with it may be sent home to change.