Welcome from the Principal
Thank you for your interest in The Skinners' Kent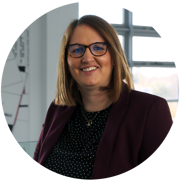 Academy. I am very pleased to introduce you to our popular, all-ability, 11-19 Academy.
The Academy is a non fee-paying school, funded directly by the Government and supported fully by its lead sponsor The Skinners' School, a grammar school for boys in Tunbridge Wells, and the Skinners' Company, one of the 12 great livery companies in the City of London.
The Skinners' Kent Academy is founded on the principles of a culture of high standards and high aspirations, a culture of active participation, an emotionally rich learning environment and an inclusive environment where every child is known and every learner supported. We seek to make learning exciting and celebrate our innovative and distinctly internationally-focussed curriculum which sets us apart from many other schools.
The main aim of the Academy is to provide the highest quality of education for students in Year 7 to Year 13. In addition, the Academy aims to raise and reflect aspirations within the local community and provide educational, social and economic benefits for all.
Our stunning, state-of-the-art building is inspired by the Guggenheim Museum in New York, and has a range of facilities including: eight Science Labs, a Lecture Theatre with 3D capabilities, Radio Studio, Multi-Media Edit Suite and Drama Studio. High speed Wifi throughout the building enables students to use mobile devices to further their learning. Within the 29 acres of grounds there are outdoor learning spaces, an all-weather pitch and a multi-use games area with three floodlit netball courts.
We see the time that our young people spend at the academy as part of a very important journey of discovery, development and self-awareness and we aim to motivate and inspire our students to achieve their very best and to set course on the brightest of futures. We view education as a continuum and strive to instil a genuine love of life-long learning in our young people so that they can have the very best opportunities for the next stage in their education, training or careers. Our co-curricular and extra-curricular enrichment provision is extremely important and central to our students' experience at the academy and we are committed too to finding and developing everything that is exceptional in each child, enabling all our students to flourish within a framework of high expectations.
I hope that this website provides you with a taste of what the Academy offers. You are most welcome to visit us for a tour, or attend one of our open events for prospective parents and students. Please do not hesitate to contact us if you have any further questions about the Academy, or would like to attend an open event or tour the Academy during the working day.
Miss Hannah Knowles
Principal
The Skinners' Kent Academy