Curriculum, Subjects & Assessment
Curriculum & Assessment
Our Curriculum Intent
The International Baccalaureate lies at the heart of our curriculum offer; it is through our promotion of international mindedness, communication and interdisciplinary learning that we aim to nurture aspiration in our students and prepare them to consider their own futures and the future of our planet. We do focus on core, foundational skills and, significantly, the knowledge base is global. All students will learn to speak a foreign language, all students will study a diverse range of writers, thinkers and scientists and all students will have opportunities to demonstrate their expressive and ethical capabilities as well as their intellectual capabilities. Creativity is valued and students have opportunities to use their knowledge, skills and learning to create tangible artefacts and projects. Students learn to disagree well and explicitly explore where we get our knowledge and information; they are critical and accepting of a broad range of voices and opinions. In class students ask questions; they ask questions of any teacher about any subject because they know that all learning is linked. Students feel safe to take risks and make bold connections, following their own lines of enquiry.
We understand that our curriculum is ambitious and our intake is broad and so we place great emphasis on inclusion. Students have different starting points, but all study the same ideas and knowledge and all work towards the same goals. Students will leave their seven year journey at SKA with a the best possible grades to give them meaningful choices. They will also leave with a shared understanding of knowledge as global, how to solve problems and how to have a positive impact on their local, national and global community. All students will be able to point to moments of success throughout their seven years. They will use these successes as a source of confidence and foundation to make informed and aspirational choices about their future careers and lives and the future of the planet.
As they progress through our curriculum, students will:
Establish a global knowledge base and discover diverse voices
Learn to disagree well
Ask questions and create connections
Create artefacts and projects with expressive and ethical scope
As a result, our students become:
Inquirers
Knowledgeable
Thinkers
Communicators
Principled
Open-minded
Caring
Risk-takers
Balanced
Reflective
Our Curriculum Journey
MYP Curriculum and Assessment (Years 7-9)
All students study the International Baccalaureate Middle Years Programme (MYP), which encourages a broad and balanced curriculum. Students are taught by specialist teachers across eight subject areas: English, MFL, Mathematics, Science, Arts, PE, Technology and Humanities. All students are assessed termly, with assessments focusing on both the curriculum and MYP assignments. Students will receive regular feedback from their teachers; feedback can be written, verbal or whole class. Our focus is on leveraging student progress. Throughout the academic year we report to parents on student progress, allowing them to see that their children are moving forwards.
All students, prior to starting at the Academy, sit Cognitive Ability Tests (CAT4), these provide a robust, standardised measure of reasoning ability. The mean CAT4 score is used to determine the GCSE target band for those students in Years 7-9.. These GCSE target bands are used internally to track and monitor progress of students so that we ensure all students are making progress in line with expectations from their starting point in Year 7.
The programme:
encourages international-mindedness in IB students, starting with a foundation in their own language and culture;
promotes a positive attitude to learning by challenging students to solve problems, show creativity and resourcefulness, and participate actively in their communities;
reflects real life by providing a framework that allows students to see the connections among the subjects themselves, and between the subjects and real issues;
supports the development of communication skills to encourage enquiry, understanding and language acquisition, and to allow student reflection and expression;
emphasises, through the learner profile, the development of the whole student – physically, intellectually, emotionally and ethically.
is exciting, innovative, meeting students' personalised needs, satisfying all National Curriculum requirements and providing a framework for all national qualifications and accreditation, including GCSE.
The Learner Profile at the centre of the MYP identifies the attitudes and attributes that we are seeking to develop in all of our Academy students.
As an IB World school, we track and report students' Middle Years Programme (MYP) progress according to specified assessment criteria that correspond to the objectives of each subject group.
Teachers are responsible for structuring varied and valid MYP assessment tasks (including tests and examinations) that will allow students to demonstrate achievement according to the objectives for each subject group. MYP assessments can take many forms in order to satisfy the four criteria within their subject area.
Each of the four criteria within each subject area are graded from 1 (lowest) to 8 (highest)
In Year 7 students are assessed against MYP Assessment Criteria Year 1
In Years 8 & 9 students are assessed against MYP Assessment Criteria Year
GCSE Curriculum and Assessment (Years 10-11)
In Year 10 students will begin their studies of GCSEs from Year 10. We believe that the MYP, with its focus on the learner profile, perfectly prepares students to be excellent learners as they embark upon their GCSE courses. All students in Years 10 and 11 study GCSE courses in English, Maths, Science and MFL, in addition to the choices they make in Technology, Expressive Arts and Humanities. All students are assessed termly.. These grades are shared with parents/carers and students throughout the academic year.
In Years 10 and11 students are preparing to complete their GCSE examinations and as such are assessed against GCSE criteria. Students take written examinations at the end of their courses and in some cases NEA (non examination assessment) that contribute to their final grade. At significant assessment points, students will be graded by their teachers 9-1.
Sixth Form (Year 12 & 13)
All Year 12 & 13 students complete the International Baccalaureate Career-related Programme (IBCP).

There are three assessed elements within the IBCP
Two - four Diploma IB Courses
An approved Career-related Qualification for all students
IBCP Core

Diploma Courses
Diploma courses within the IBCP are assessed in accordance with rigorous international standards. Students take written examinations at the end of their courses, which are marked by external IB examiners. The grades awarded for each course range from 1 (lowest) to 7 (highest). Each of the Diploma courses includes a percentage of internal assessment.
Applied Courses (Career-related Qualification)
Details of the assessment of the career-related qualifications can be found via the subject links. All career-related qualifications are equivalent to a Level 3 qualification. As such, they are appropriate for university entry or apprenticeships and they are recognised within their specific industries.
IBCP Core
Every CP student must complete the four elements of the CP core. These are:
Reflective Project
Service Learning
Personal and Professional Skills
Language Development
The Reflective Project is assessed internally and externally moderated and graded by the IB. Projects are graded from A to E, with A being the highest grade. The Academy are responsible for confirming with the IB that students have completed the requirements for Service Learning, Personal and Professional Skills and Language Development; these are assessed internally.
Student reports explained
For students completing GCSE or IBCP courses, reports are compiled providing both working at grades and predicated grades based on the assessment and work completed by students at data entry points throughout the year.
Subject reports are also completed to provide students and parents with key information regarding their progress and next steps.
Years 7-9
Students are assigned subject specific GCSE Target Bands. These are based on how students with a similar Key Stage Two profile to theirs have performed nationally in GCSE exams in previous years. If the student continues to show the same levels of progress and continues to work in the same way as they move through the Academy, the grades that they could achieve at GCSE are shown below: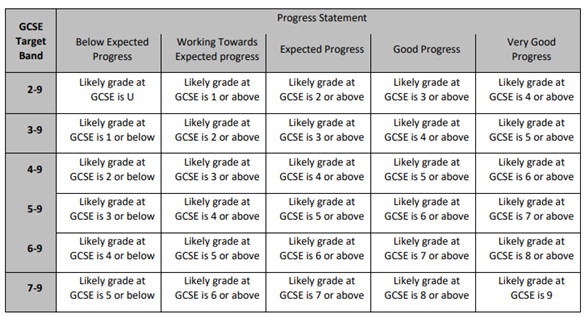 Students are also given regular grade descriptors with feedback on:
Homework
Presentation
Readiness for Learning
Behaviour
These are detailed further in the table below: